The UK has some of the most stunning and unique countrysides in the world.
With lots of rolling hills, farmland, and gorgeous scenic landscapes, travellers will find an adventure into our rural areas truly breathtaking.
That's why we have dedicated this post to some of the most unique and wonderful countryside experiences to take part in this summer.
We've covered experiences for the family, couples, the guys and the girls. Below is our list of the UK's best countryside summer experiences, which are unique, fun and unforgettable.
Read on to see what we've got in store; you certainly won't want to miss out!
Experiences for the family
Deciding to do something fun with the kids that are not only exciting but is also be wholesome and memorable can be hard. Creating those unforgettable memories that they can look back on their childhood with fondness, nostalgia and bringing a big smile to their face is every parent wish.
The moments you choose with your children can even become a family tradition if done right.
We've found some pretty perfect experiences for creating these powerful family moments.
Strawberry picking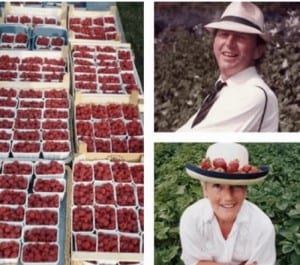 Where to go?
For one of the best berry picking farms head over to Hendrewennol in the Vale of Glamorgan. With over 40 years of perfecting their 'pick your own berries', you'll find raspberries, strawberries, gooseberries, red, white and blackcurrants, tayberries and blackberries, and Blueberries. The berry season begins in the middle of May and continues through until August.
The fun's not over, then you can all head home and bake some berry desserts, jams and treats- if there's some left that is!
Mazes
Where to go?
Our favourite is the Longleat hedge maze. Whether it takes you 5 or 40 minutes you'll have fun wandering the biggest hedge maze in Britain.
Animal petting
Where to go? 
Want to try some animal petting with a difference? The Alpaca Experience at Faerie Tale Alpacas is one to remember. Not only can you get a chance to meet some alpacas, but you'll also cuddle some babies, take photos and take them for a walk. Now that's something to talk about!
Want to buy it as a gift?
Know someone who would absolutely love to meet some baby alpacas? You can even purchase the Alpaca experience and gift it to someone as a voucher. Check out a whole range of alpaca experience gifts.
Activity Centres
Where to go?
The award-winning Heatherton World of Activities is one of the most action-packed family days out you could do. With a huge range of experiences from the walk on water and bumper boats, to archery and high ropes. If that's not enough there's also the thrilling escape rooms to really get working as a team!
Want to buy it as a gift?
If you want to treat the family or some friends to a fun family day out, then buying this adventure gift experience may be just the perfect thing. You can take a look at the whole range of gift experience vouchers.
Experiences for couples
Glamping in Dorset
It's glamorous camping, and even the unadventurous would still have all their creature comforts. It's the perfect couples retreat this summer with nature at your feet while having the luxury of a double bed, electric and a stove heater.
Where to go?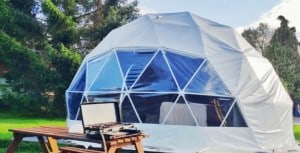 Dorset Country Holidays & Events have perfected the high-end camping to a T.
From posh glamping tents and yurts to futuristic Geo Domes, overnight stays come equipped with amazing extras including a fire pit for roasting marshmallows that make the perfect camping experience.
Have you ever heard of camping with a 'chandelier' electric light plus TV/DVD, electric faux-stove heater and even a Nespresso coffee machine with pods on arrival?
Want to buy it as a gift?
Dorset Country Holidays & Events know how to make an experience worthwhile. With a range of glamping experiences available as gifts, you can even personalise the experience by adding on extras. Personal touches such as 'Bring your dog' which includes a range of dog toys, treats and feeding bowls. For the adventurous, you can add on clay pigeon shooting. Or if you like to take the glamping seriously then you can add on a daily- maid service, a massage treatment and even a bath linen set which includes a facecloth, hand towel and a bath towel. You can check out the range of their gift experiences.
Glamping in Somerset
Where to go?
Another glamping favourite of ours is the Woodland Escape exclusive luxury glamping in Somerset.
What we love the most? Not only do you get the choice of glamping lodge, tents or yurts but Woodland Escape has a very special 'hot tub glamping'. The perfect couple's summer getaway. Imagine soaking away in a bubbling hot tub while gazing up at the stars under your loved one's arm. Ahhh summer dream.
Want to buy it as a gift?
Whether it's a classic glamping woodland yurt stay, or in a luxury lodge tent, you can find the perfect treat to have away with your loved one and present it in a beautiful experience gift voucher.
Check out the full range of gift experiences vouchers at Woodland Escape.
Glamping in Yorkshire Dales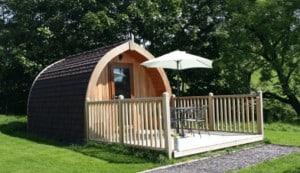 Where to go?
If you want something further North, then Howgills Hideaway is the glamping destination for you.
You can have luxury glamping stay at their beautiful wooden pods with all the trimmings. If you're looking for the most convenient camping trip then this is the one for you. Kit out your stay with a delicious full English breakfast hamper, a BBQ food pack or if you're going for a special occasion you can request a personalised celebration package.
Want to buy it as a gift?
We love the Fully insulated and heated timber pods, they are the glam in glamping. There is also much more to choose from at Howgills Hideaway, see the full list of gift experiences.
Romantic countryside retreat
Where to go?
For the ultimate weekend break why not a romantic stay at the luxurious Glenarm Castle, one of Northern Ireland's most beautiful estates.
Want to buy it as a gift?
If you've got a special anniversary coming up this summer, then whisk your loved one away on an Irish countryside retreat.
Build brand new this year, you can stay in the luxury accommodation pods at Glenarm Castle. For options on their pods visit their gift experiences.
Experiences for the Adventurous
Do you have a stag do, or hen do to plan this year? Or maybe it's a milestone birthday and you're looking for some fun?
We've got activities that you won't want to miss out on!
Tractor driving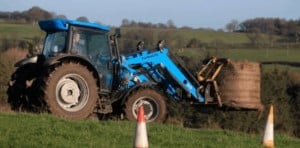 Where to go?
Kirkwood Real Farm Driving has the ultimate real farming experience. A wholesome and worthwhile experience, out in the fresh air and feeling the rumble of a tractor under your feet.
The tractor driving at Kirkwood allows you to get as close to an authentic farming experience you'll get. Hit the fields in the big, bulky and bumpy machine and move bales, feed and lots of farming jobs.
Want to buy it as a gift?
If you know someone who would love this tractor experience, then you can gift it to them in an experience voucher. A list of the tractor experiences can be found. Along with quad bike tours through the countryside.
Axe throwing, battle zone archery and more 4x4 driving
Where to go?
Head over to Keypitts Off-Road Adventures to get a fully immersive rugged experience.
Not only can you take part in more 4x4 off-road driving in challenging terrain, but you can also take part in battle zone archery and even axe throwing.
Axe Throwing
Perfect for a stag or hen do activity, compete with your mates and see who has the best throwing skills
4x4 Driving
An amazing experience and one you won't forget about! Take the Land Rover Discovery out into the muddy and challenging terrain. A whole driving course has been designed to test your driving ability and it gets harder as it goes on. The best part? Up to 3 of your mates can be in the vehicle with you so there's no forgetting the mistakes you make!
Quad Skill Driving
Ever fancy yourself as a bit of a pro at driving. Now you can out it to the test with the quad skill driving. You'll be tested over hills and S bends, water splashes, and even what Keypitts call 'the Woodland Dipper' There are 3 levels of skills to achieve; novice, skill and super skill!
Battlezone Archery
An amazing experience for large groups.
Two teams set off to face each other in a challenging game of Battlezone archery. The rules are simple, two teams of equal players face off across a purpose-built field layout. Each team has 6 specially designed bunkers made by Boost Air®, 6 target cones that are placed in front of each bunker, each holding a ball. There are several objectives to the game. The scoring is very simple! You will get 30 points for an eliminated player and 50 points for a targeted cone. Each game will last for up to 10minutes, where the scores are added and teams swap ends.
There are two umpires each responsible for a half zone of the field. The two teams are separated by a neutral zone. If a player catches an arrow, they can bring one of their eliminated players back into the game. The game ends when either, all team members are eliminated, all 6 cones have been hit or time runs out.
Want to buy it as a gift?
You can purchase all of these amazing experiences from Keypitts Off-Road Adventures.
Drinking Experiences
If having an alcohol experience is more your thing, then these are the activities for you.
Where to go?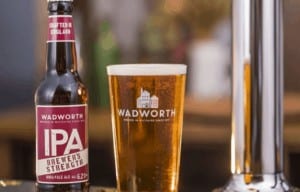 If a beer tour is your thing then this is the perfect experience for you!
At the Wadworth brewery tour, you'll learn all about the history of brewing and traditional techniques are combined with modern brewery skills to make the famous Wadworth beer that is here today.
You can even make your own ale! Yes, really. At Wadworth they provide a unique experience like no other, where you can work with a world-renowned brewmaster to create your very own flavour profile for your perfect ale.
Where to go?
Edinburgh Gin Tours
This is for real Gin lovers! Visit multiple venues on a gin tasting tour through Edinburgh. The tour will take you to the highest quality gin-based drinks and cocktails. You'll even learn how gin matches to different flavours. You'll discover some amazing gin-based drinks and meet like-minded people on our tours.
Scottish Whisky Tours
Of course, it wouldn't be an authentic whisky tour if it wasn't in Scotland. Like the gin tour, the whisky tour will be with fellow whisky lovers and you'll visit all the best venues.  Not only will you get to be drinking the best whisky around, but you'll also have a knowledgeable local guide giving you all the ins and outs on whisky. Check out Indievoucher.com
Experiences for relaxation
Sometimes all you need is a break!
Are you looking to get away for a birthday, hen or stag? Do we even need an occasion? Sometimes a mini break holiday is just what ticks the box this summer. We've got you covered.
Where to go?
Glanusk is the perfect destination for a UK getaway. With a range of beautiful accommodation to choose from, you can stay at the Gardens Cottage, the Guards Apartment or even the grand Glanusk Lodge.
With peaceful landscape gardens, in the heart of Glanusk Park, known as the "Jewel in the Usk Valley".
Want to buy it as a gift?
You can present your hen with a beautiful gift experience voucher as a fabulous way to reveal to her the celebration.
Group Hen/ Stag do or birthday activities:
Know someone getting married? If you're looking for amazing alternative activates to take part in for your bride or hubby-to-be's special hen or stag do. Or if you know someone who loves to do something different and they need a special treat on their birthday then we've got classy and fun options for you
Where to go?
Apley Farm Shop has a great range of experiences that are just a dream!
What's better than getting together with all your friends and having an amazing afternoon tea with a pot of Lord Hamilton's tea, delicate sandwiches, handmade cakes & scones with local homemade jam & English clotted cream. Mmm, delish!
Or if wine is more your girl groups favourite get together activity, then a wine course and a tour on the vineyards is the perfect chill-out group activity.
The wine tour includes how wine is made, how to taste like a pro, how to identify and assess wine faults, tasting notes of various grapes and more.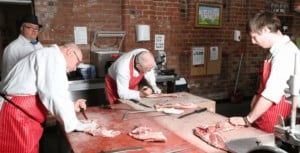 Want to buy it as a gift?
A hilarious but great gift can be to send him or her on a 'good husband or wife' hen or stag do. This new craze is a hilarious and fun alternative to the traditional parties.
A bakery course, cheese, or butchery is not only a super fun experience but they will learn those all-important cooking skills to be a great husband or wife! Very tongue in cheek, but I'm sure the betrothed will appreciate it! Choose from a range of gift experience courses.
We hope you like our list of the best summer countryside experiences.
If you're a business offering special countryside experiences and want to know how you can start providing gift experience vouchers, contact us.