The Metropole, in all its Victorian glory, is a unique and classic hotel and spa.
For 120 years and 5 generations, the hotel has been owned by the same family. With those family principles at its core, The Metropole hotel represents an inviting home from home. Now run by siblings Justin Baird-Murray and Finance Director Sarah Hill, a huge effort has been made to transform the stately Victorian building into the 21st century without losing its distinctive character and charm.
Keeping their flair for the old meets new, the Metropole hotel has a unique passion that is driving a whole new type of visitor.
Motoring at Metropole
The Metropole Hotel- admired in the motoring world, has been host to its fair share of classic car clubs and rallies.
With hotel owner Justin Baird-Murray, being the proud owner of the iconic Morgan Plus 4 Super Sports in classic Gulf livery, it's no wonder his passion in motoring has become one with his hotel.
Motoring services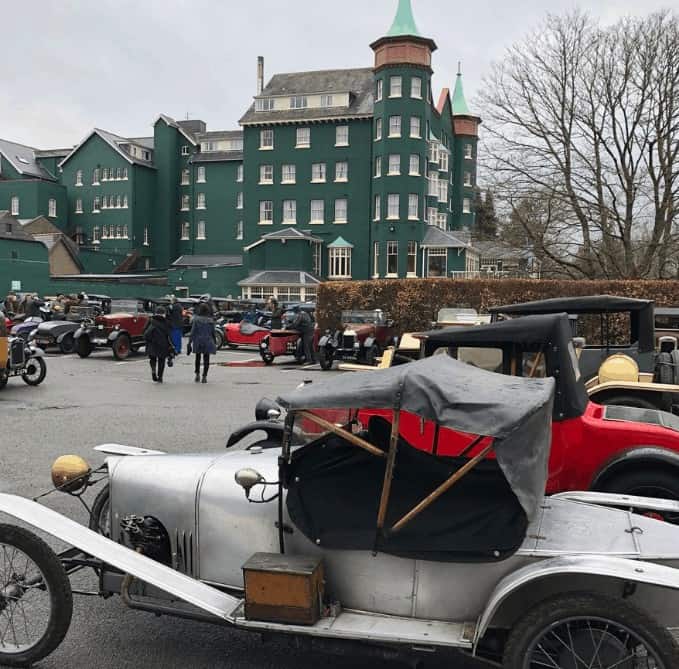 With a huge welcome to its motoring family, the humble hotel has a whole host of services dedicated to motors and enthusiasts alike.
With rolling mountains and scenic s-bends, the roads around Llandrindod Wells are some of the best to drive in Britain. And with minimal congestion, it makes the perfect drive for taking in the stunning Welsh scenery. With its location central to many driving routes, the Metropole Hotel is the finest destination to retreat and complete a motor enthusiasts paradise.
What's more, motorists are encouraged to use their ample parking space for socialising and as a central hub, while discovering the local driving routes of the area.
The Metropole offers an adventurous  Yamaha Offroad Experience.
Out into the countryside, you can experience the infamous enduro terrain. Which impressively over the past 10 years has staged British, European and World Enduro Championship events. Thrill-seekers get more than their fill with 5 hours of riding over rocky tracks, bogs, descents, river crossings and much more, all led by highly experienced instructors.
The Metropole also offers an authentic forest rally driving experience in the Welsh hills.
With lessons from Phil and Sheila Price's expert rally school, you'll get your adrenaline pumped with slides, drifts and Scandinavian flicks while driving a speedy Subaru Impreza.
Tutored with professional instructors all holding BARS Instructor Licences, you'll get to experience what it's like to be a rally driver. You'll learn tricks and rallying maneuvers for all levels of driving skills.
Why not hire a beautiful sports car while you discover the lush Welsh countryside? The Metropole Hotel work in conjunction with Sportscarhire and have a wonderful range of sports cars for you to upgrade your driving experience.
In the same quaint town of Llandrindod Wells, there is even a professional classic car restoration company, The King of Cool. They hold a high reputation for transforming all kinds of specialist vehicles. From Lancia's to Fiats, Fords to all American Muscle, they will treat every car as if their own. For any visitors wanting repairs, restoration or services The King of Cool is a trusted team. With the shared passion for classic motors, visitors quoting "Metropole Classic" will get a 5% discount on any restoration services.
Discounted Accommodation
And if that's not all, the Metropole demonstrate their dedication to the motoring family by offering discounted accommodation rates to teams entering in specific motoring events!
For partakers of Severn Valley Rally, 2 Day Enduro, Nicky Grist Stage Rally, Harry Flatters Rally or Tuff Terrains 4x4 Off-Road School you'll get your chance to stay at this courteous hotel at a favourable rate!
Completing the experience
After an exhilarating day, the Metropole provides the finest opportunity to help you relax and unwind.
The sleepy town of Llandrindod Wells was once infamous as 'The Spa town'. This came about due to the discovery of its sulphur spring in 1732 by Reverend Theophilus Evans, which cured his "radicated scurvy". The spring, nicknamed Rock Water, was highly regarded at the time, and later many bathhouses came to be built around the healing waters.
The spa at The Metropole Hotel has a history of popularity. Many visitors would come to bathe, have pressurised water jet massage treatments and even drink the water!
The revamped Rock Spa and health club has a breath of new life. There're luxury treatment rooms, a thermal whirlpool spa, sauna, steam room and stunning 18- meter pool under the classic Victorian style conservatory. The Metropole has demonstrated a stunning capability of retaining the old mixed with the new, for the ultimate unique experience.
Renowned for its ability to produce jaw-dropping food from local fresh produce, the Radnor and Miles Restaurant has been justly awarded the AA Rosette.
With the head chef passionate about using the finest fresh local ingredients, the menu at Radnor and Miles is of the utmost fine dining authentic Welsh cuisine. With an abundance of venison and wild game, or seafood from the Welsh coastline the menu is a delightful and enriching welsh experience.
Its no wonder the hotel has been awarded a Visit Wales gold award for outstanding quality, comfort and hospitality.
The Metropole Hotel offers luxurious gift experience vouchers which can be used as part or full payment against anything from luxurious overnight accommodation, a relaxing day in the spa or in the award-winning Radnor & Miles restaurant.
Whether you're buying for a special occasion or just a sweet treat to yourself, the gift experiences at Metropole will leave you with memories to cherish forever.