At last, we have launched an all-new gift voucher management system creatively called - Enjovia 2.0.
Why have we made a new system?
In 2017 we hit the road to visit our customers, taking an audit of their needs and found that our system needed a major modernisation!
Over the last year, we have been hard at work on our new system, and here it finally is
What's improved?
1. You can create and design your own store
The biggest change we've made to our new product is the self-sign up feature.
So what does this mean?
With the likes of Canva, Shopify and WordPress, we are beginning to see digital e-commerce take a huge shift into the self-serving industry, gone are the days of long waits and expensive custom-built webstores, more and more businesses want a quick and easy store they can create in minutes.
Just like these self-serve e-commerce giants, our new voucher management system will allow any company to self-set-up their own gift voucher store independently of our involvement. Similarly, you'll be able to design your entire gift voucher store exactly how YOU want in minutes and be ready to sell your experiences within the hour!
Our old system required our in-house team to create a store for you on our server. This meant that aside from images, your voucher homepage looked almost identical to all of our other customers. It also meant that all the uploading of vouchers, designing and edits was in our hands.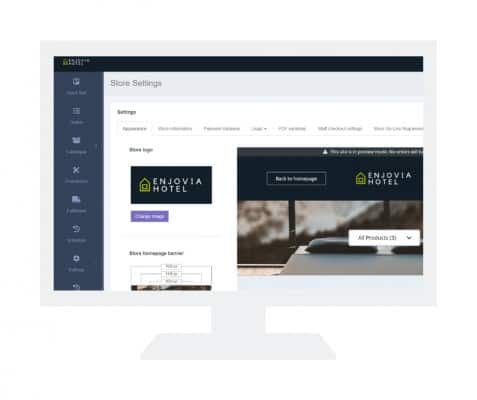 We wanted to free up the options and flexibility for you. That's why in Enjovia 2.0 you have the ability to create and edit banners, colours, fonts and styles to design a gift voucher store in line with your unique branding. The Enjovia 2.0 image uploader will also allow you to crop and edit any product images at almost any size, as well as optimising the image for SEO.
Store creation has never been so simple for gift vouchers. All you'll need is an email, password and store name then the rest is down to you to create.
As well as our interactive onscreen step by step start-up guidance, customers have access to an on-page chat to get help in real-time and a dedicated help centre to guide you through the process- should you need it.
2. We have simplified the Voucher Store Management
Enjovia 2.0 gives you back the control. With our self-management store, you are able to add your own vouchers, promo codes, discounts and add-ons whenever you need.
The design is simple and easy to follow. Allowing you complete ease when using the system that will require little to no training at all to manage your vouchers. Our new Voucher Store Management has improved:
The ease of use for users
Easier input of vouchers into the system
Customizability
Create different roles for departments within your organisation
Edit management permissions, this can limit majority of staff ability to make back of system edits and create management profiles that can only have access or permissions to create certain tasks. E.g. change prices of vouchers.
Easy to view order history of vouchers
Easy to view promotions on vouchers, with simplified ability to edit
Quick sell option for in- house sales
We have even taken the management store one step further and included content management tools to allow maximum gift voucher exposure and revenue. This will enable marketing and content managers to use our inbuilt meta description option for SEO, schedule their voucher offerings and discounts around marketing campaigns and upselling at point of sale through add-ons.
We have split our voucher management into 3 categories:
Categories:
Our categories section gives you the ability to group your products. Whether you want to group via promotions, bulk editing or specific groups, for example, you could group all of the spa vouchers together.
Product:
The products are the vouchers, the process for adding your vouchers is so simple. Just fill in the template sections and it will create a beautiful looking voucher on your store.
Add-ons: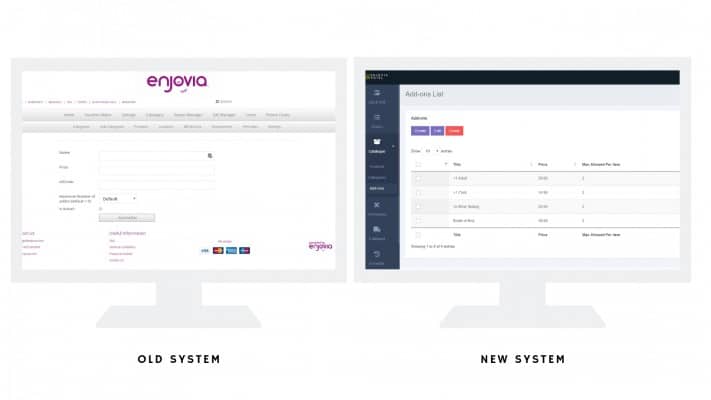 Add- ons are a revenue-generating must-have feature. In our own data, we have seen when add-ons are present, they are added onto 8-10% of orders. People like to personalise their gifts and experiences and we recognise this as an important aspect of gift vouchers. That's why we have incorporated add on's as a vital part of the store management. Receiving a one-night bed and breakfast stay at a luxury hotel would always make a great gift but when a bottle of wine and flower petals are added to the order, that one-night stay becomes a romantic one-night stay.
It is super simple to do too, see our quick demonstration video here on how to create an add-on in the management store, add it to a product, and view how that product looks on your front end store.
3. Improved Promotions ability
Enjovia 2.0 has an advanced tool to create flexible promotions to suit store managers. As you may have even experienced yourself, promotions are a great way to encourage additional spending.
Our promotions can be split into two categories:
Product discount e.g. 10% off Black Friday Sale
Checkout offer e.g. free spa when spending £150 or more
4. Improved Voucher design options
Enjovia 2.0 gives you the ability to change the content of your vouchers too. With a range of voucher templates to choose from, you'll also have the ability to change wording, logos and voucher T&C's.
5. Voucher Sales and Delivery is now easier than ever
We have redesigned our shopping experience to simplify the process and minimise in abandoned shopping carts.
How do we do this?
We have shortened the steps from selection to payment in just 3 simple steps. We found that compiling each of the steps to one page made it a more enjoyable shopping experience.
1st Step: add a personal message to be copied onto the voucher, choose to package, add any promo codes.
2nd Step: Choose a delivery option: postal, collection or e-mail
Here at Enjovia, we take care of the postal fulfilment for business in the UK. For international business, we have designed Enjovia 2.0 with a self-contained fulfilment functionality built into the system. With one simple click, all fulfilment orders including vouchers and corresponding envelopes can be printed off.
From our fulfilment options dashboard, you can now change shipping prices, packaging options and prices, collection options and prices and delivery options.
3rd Step: Billing address and Payment
At the end of this process, your shoppers will be able to download a printable PDF of their voucher and they will receive a receipt and confirmation of the order via email.
Your customers will have the option to buy your vouchers online or in-house. With the latter in mind, we have designed staff check out system that allows staff to process the shopping experience faster for any front-facing customers.
6. Improved Voucher Redemption and Tracking
With 3 simple clicks staff can easily redeem vouchers on the spot, without taking time away from their service.
Video on redeeming a voucher:
Voucher Redemption:
Enjovia 2.0 has improved its redemptions process by allowing you to have total flexibility when it comes to changing a voucher status.
We also allow partial redemption on monetary vouchers. We know that one of the biggest frustrations people face is needing to spend their entire monetary voucher in one go otherwise say goodbye to the amount you didn't spend. The system keeps a track of how much is left on the voucher so there's no worrying for you or your customer.
Complying with GDPR:
We have created a new system to comply with GDPR, resulting in all personalised dada being deleted from the Enjovia database 6 months after expiry.
Tracking:
We have built a tool that allows you to track your sales, vouchers, scheduling and fulfilment.
For example, you can export in an Excel file what products sell well vs which don't, your promotions vs non-promotions and so on. This will allow your management team to run a complete analysis of your voucher process, maximising your revenue potential.
7. Employee Checkout
For some of our customers, as much as 50% of their sales are done face to face using their own point of sale systems. Enjovia has incorporated a quick checkout especially for staff, this allows a voucher to be generated and sent out while you take payment with your card machines or cash. This checkout is even quicker than our normal checkout, reducing those front of house pressures! You can also use Enjovia's quick checkout to create unlimited commission-free complimentary vouchers for you to give to your loyal customers.
8. Analytics
Our reporting and analytics have also evolved, we have fully integrated into Google's advanced e-commerce analytics. Why re-invent the wheel right? Our analytics dashboard will now allow you to compare your current sales to past sales, show you itemized sales, redemptions and more, all in one easy to see graphical dashboard. With google advanced e-commerce analytics you will be able to track and tag more than ever!
9. Money straight to you!
Here at Enjovia we feel it's only right that you instantly receive your sales. Most gift voucher management platforms hold onto your revenue and distribute it to you at a later date.
We have set up the platform so that you get your hard-earned funds into your own account instantly.
Enjovia 2.0
As you can see here at Enjovia we have completely transformed our product and have delivered exactly the product based around our customers' needs. Our gift voucher system not only looks so much better, but the management process is smoother, faster, simpler and most importantly will generate more revenue than ever!
This is just the start, we'll make sure we keep you up to date as our system gets better. Our aim is to create the most flexible and advanced gift voucher and card e-commerce platform in the world.
Additional services we offer:
Online training tutorials and videos
Even though the product is simple and easy to use, we have completed and made available online training tutorials and videos to aid you in your entire process of using Enjovia 2.0.
We have 24/7 Support and our customer success managers will ensure you're getting the most from your store.
Our Blog
Follow our blog for new and updated gift voucher sales, marketing and industry update support.
We keep on track of industry trends in the experience economy, gift voucher market and e-commerce tech. We write detailed posts with marketing and sales support on how to get the most out of your gift voucher management system. You can follow us on Twitter here to get access to our industry insights too.
If you've enjoyed this post, please give it a share. For more information contact us at here.