Take a look at the luxurious Valentines Gift Experiences at Park Plaza Cardiff
Are you stuck for gift ideas this Valentine's Day?
Should I get a necklace, a box of chocolates or a bottle of wine? What do you get the person that already has it all? If you really want to impress your valentine this year, get them a gift experience that will show them how much you know them.
That's why we've created this Valentine's Day guide to find the perfect gift for your valentine.
A Valentine's Day to remember!
Want to impress that special someone?
It's easy, you just need to focus on deep and meaningful Valentines gift experiences.
Why?
Experiences leave a lasting memory which is linked to emotions in a way physical gifts aren't. It may come as a surprise, but experiences are scientifically proven to be preferred over material gifts. Satisfaction with the experience gifts increases over time. Whereas the overall satisfaction with material gifts decreases.
Our personal favourite part about experiences? You get to join in on the fun too. Call it a bit of 'sharing time together' it is Valentine's Day after all.
Where to look?
So we've established experiences are the way forward for the ultimate gift. So where can you find these incredible and memorable experiences?
For the timeless romantic gesture, turn to the elegant and luxurious, award-winning hotel Park Plaza Cardiff.
Whether you're looking woo a new romance, reignite an old flame, or even a share a treat between two friends that say, "Hey we're in this together, you've got me!" You'll find the perfect gift at the stunning hotel in the heart of Cardiff.
With a huge range of unique experiences available, The Park Plaza has covered all of the bases for a personal and tailored experience to suit anyone.
Below we've created the best help guide for selecting which experience is going to be the perfect experience gift for your Valentine. Select your gift based on what you think they need, or what you want your message to them to say.
What does your Valentine need the most?
To uplift their health and well-being
The effects of a healthy mind and wellbeing are invaluable.
A focus on a healthy mind and wellbeing will improve self- confidence, self-esteem, productivity, engagement in the world around you, the ability to cope with stresses of life and improve on relationships with others.
The Laguna Health and Spa pride itself on creating an environment that is a sensory place to relax, recharge and feel your best.
"At this lifestyle club, the Laguna, we will help you to re-discover your mind, body and soul. We focus on you and believe that is essential to achieving inner peace and happiness, so that one can fulfill the basic human needs for satisfaction and invigoration." – The Laguna Spa.
Luckily for you, you can simply gift this experience of wellbeing to your loved one. All your messages of love, care and thoughtfulness will be demonstrated in this transcendent gift experience.
What the message conveys: I care about you deeply
Our favourite Well-being gift experience vouchers:
Get the ultimate well-being experience. Focusing on deep relaxation, and mindfulness with the aim to reduce stress, this holistic treatment rebalances the body and mind through massage on the metamorphic zones on the feet, finishing with a Rose Quartz Crystal scalp massage.
Guided with breathing techniques bring the awareness to the present, this luxurious massage will take your body on into a state of total relaxation, with natural Marine Mud or Algae wraps with essential oil to perfectly indulge the body. Includes a chilled glass of bubbly, use of facilities and light lunch for the full well-being experience.
Massage and Pampering session
Massage is so beneficial to the body. It can relieve tense muscles, wash away stresses, and detoxify, leaving you feeling as light as a feather and relieved from pressure.
What the message conveys: You need a break, this day is about you.
Our Favourite Treatments:
Enjoy this relaxation treat together, whilst immersing in a side by side full body massage. Then unwind with some chilled Prosecco in the relaxation room.
Give her what will feel like the most amazing massage she will ever receive. The stress and pressure on the body whilst carrying a precious baby will be instantly lifted. Mum and baby will feel the benefits of this soothing and well- needed massage instantly!
Delicious Tasty Treats!
If your loved one is more of a 'foodie' then you've got an amazing selection of tasty treats to choose from. From vegan dishes to gin lovers, The Park Plaza has a wide range of food experiences to suit all preferences.
What the message conveys: I know you so well!
Our favourite Park Plaza Cardiff food experiences:
The Classic
If a nice big juicy steak is more to their taste buds this is the ultimate dining for two.
For Him
Gentlemen's Afternoon Tea for Two
Forget sweetness, this is all about the savoury. An afternoon tea that is made for men.
For Her
Champagne Traditional Afternoon
She's sweet inside and out thanks to this divine champagne afternoon tea.
For Vegans
No need to miss out, afternoon teas are for everyone!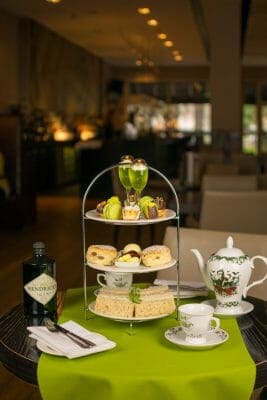 For Gin Lovers!
Hendricks Gin afternoon tea for two
For the Gin Lovers, deliciously refreshing Hendrick's cucumber gin cocktail served in a vintage Hendrick's teapot for the afternoon tea with a twist!
The ultimate special treat
Want to give it all? Mix and match gift experiences with these carefully selected packages for the most deserving of treats.
What the message conveys: You deserve it all!
Dinner Bed and Breakfast Sunday Spa Break for two
Start the week off right with the Sunday Spa Break. Includes A delicious 3-course dinner in the award-winning Laguna Restaurant, an overnight stay, a full English breakfast and a treatment with full use of spa facilities. We also love the upgrade option to an executive room!
Escape from the stresses and pressures of everyday life and relax in the tranquil surroundings of the spa by evening and enjoy a 2-course dinner in the Laguna Restaurant.
Not sure what they need?
Not sure what to choose? No problem, let them decide. The Park Plaza has all bases covered with the option of their Park Plaza monetary gift vouchers. And with a 12-month validity, they can book whenever it suits them. Ranging from £25, £50 and £100
What the message conveys: Have what you like, pick your favourite!
I don't need love I've got my best Friends
Let's not forget that Valentine's Day can be inclusive to all! Why not use this opportunity to celebrate your best friendships?
What the message conveys: Who needs valentines when you've got a best friend?!
Our Favourite:
The Afternoon Tea Pamper with Friends
Have a fun friend's day out and celebrate your love for each other. Along with an unwinding 50-minute treatment, you can stretch out the experience with full use of spa facilities and a delicious afternoon tea
For more experiences at the Park Plaza Cardiff Hotel check out their gift voucher homepage.