In this blog post, we are going to explore farm diversification ideas uk. In which you can transform your farm or country house into a profitable empire.
This blog post is segmented into 3 separate sections:
1. Find your diversifying niche
2. How to market yourself
3. Maximising your revenue from experiences
Step 1: Find your diversifying niche
Many successful and profitable farms are now having to diversify and find alternative methods of making money.
Check out these examples of farms who have found their niche.
Humble By Nature in Monmouthshire
Celebrity Kate Humble has diversified her working farm in Monmouthshire by turning it into "A thriving rural Skills Centre".
In a nutshell, they offer all sort of activities to reconnect people to the land, while keeping traditional rural skills and crafts alive.
They run courses in the following:
Smallholding & Animal Husbandry
Rural Skills
Food & Cookery
Crafts & Skills
Aquaponics
In addition to the courses, Kate has turned the farm into a rural place to stay, with a choice of 3 alternative style accommodation for travellers with a unique taste.
Penlon Cottage Brewery
This brewery farm has diversified by not just branding and selling their own bottled ale, but have transformed into a lively, welcoming taproom.
People travel from all over to experience their scenic settings, while enjoying a local brew and a bite to eat. Their venue space called "The Granery Tasting room" is also available for event hire.
In addition to the popular destination to hang out, Penlon Cottage Brewery sells their bottled Penlon Ale on their website too.
What can you do?
There is a huge range of services you can offer on your farmland to diversify.  To help decide your niche consider the following:
What resources do I have to diversify?
Can you continue with your current farm activities while implementing a new idea? Or do you want to pivot and take a whole new path?
Here's a couple of ideas to get you going…
Do you have the resources for a berry or vegetable picking farm?
Hootons Homegrown in Anglesey grows a variety of fruits and vegetables that can be handpicked by the public. To complement this, they also have an award-winning farm shop with their home-grown meats and vegetables on sale, with an all-year-round open café and summer BBQ.
Do you have any livestock on your farm?
Look at Cefn Mably Farm Park.
Cefn Mably Farm Park is a farm animal attraction for children, whilst offering a huge soft play area, making their farm a lovely full experience for the family. They've extended their services further by making exclusive packages for children's birthday parties, schools and groups.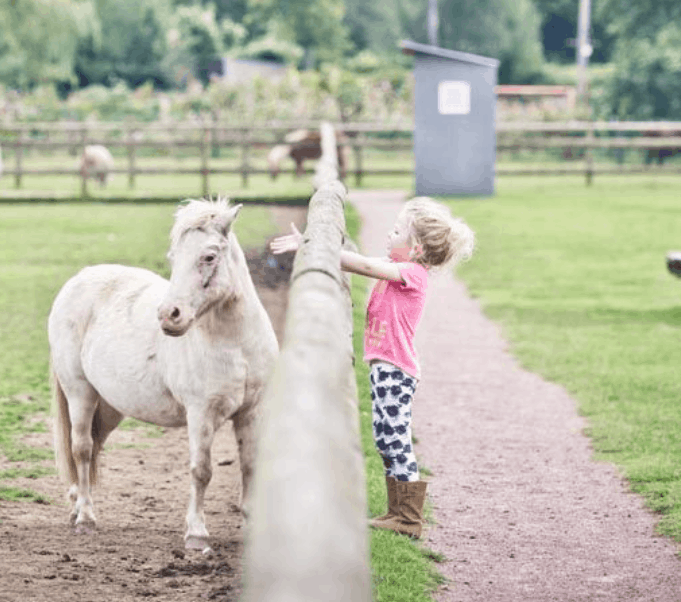 Maybe you have a big barn on the property?
Barn wedding venues are becoming so popular. Look at The Sugar Loaf Barn in Abergavenny.
Sugar Loaf Barn is a luxury family-run holiday home. They have incredible Shepherds Huts perched on the Sugar Loaf mountain. Due to its beautiful venue space and surroundings, it has become an extremely popular destination for weddings.  I personally wanted to book this venue for my wedding, but they have a 2-year waiting list! They are already fully booked for 2020. When it comes to weddings demand is high.
Sugar Loaf have perfected their wedding venue services and have become pro's in the wedding world.
What local attractions are close to me?
Are you located in an area that has lots of local attractions?
Check out Windmill Hill Caravan Park in Pembrokeshire. As well as being a destination for campers they still run a dairy farm.  Listed on their website is a whole list of local attractions for the whole family, as well as being an ideal location to travel to many local beaches.
Can I make a bigger impact on the local community?
Many farmers feel very passionate about rural, country living and want to share their knowledge with the younger generation to keep it alive and sustainable. Education around their farming activities has become their goal.
The education route has so much support in the farming community too.
Farmers can join a membership with organisations such as Farms For Schools who provide farmers with a structured set of policies and procedures to follow, ensuring the safety and education for schools visiting farms. It's a good way for farmers to keep relevant with legislation, while being part of a recognised body that are passionate for educating about farmland.
Many of these bodies work with local farming charities. One example is Countryside Learning whose mission is,
"To educate, inform and inspire children, parents and teachers, so they can enjoy and appreciate the countryside while having a greater understanding of the wide range of issues surrounding it."
Odds Farm in Buckinghamshire (a member of Farms For Schools) is a shining example of an educational farming experience.
They dedicate a large part of their experience to education for children and schools. Teaching children about many aspects of farming.
Figuring out how to diversify can be a difficult process, so you should also ask yourself the following questions too:
How much manpower do I have available?
What are neighboring farms offering?
 Which type of audience do I want to target?
How much will it cost to implement?
How much income can I expect?
The government offer a huge help to farmers wanting to diversify, you can check it out here.
Step 2: How to market yourself
You've figured out your diversifying niche, now what?
Make sure people know about you!
Getting your message out there is a very crucial step, that can't be overlooked or glossed over. Only distributing leaflets in local pubs or restaurants won't cut the mustard anymore.
How to spread the word
Branding
Visibility
Reachability
1.     Branding
First things first, you need to create an identity- a brand!
Choosing a company name
If your struggling to think of something there are easy to use websites, who can help you generate a great name.
Sites like Shopify name generator are free and super easy to use.
If that doesn't work…
Ask friends and family for their input.
Or
Ask on social media!
People love to be involved in decision making. By including the local community in naming your business, you'll gather lots of interest. It can be a great way to generate publicity.
Get a nice-looking logo
If you don't want to pay out a pricey fee for getting a professional to design your logo there are cheaper alternatives.
Design it yourself
The first option is if you want to give it a go yourself.
Canva is a great site you can use to design your own logo. Although, this may require a little bit of creative flair and skill to pull off.
Hands- off cheap alternative
If you're holding your hands up and thinking "that's not me!" You can use online sites to pay someone to design your branding for you.
Check out Fiverr. It's a great place to find a huge option of people to design your logo.  You may get lucky and for a very minimal fee, you can get a great looking logo designed. But it's like rolling a dice, you may not be happy with the results too.
Just bite the bullet and pay a professional
Or you can pay out and get a professional marketing designer to design your logo, but this will be the more expensive option!
2.     Visibility
Make sure you are visible and easily contactable.
The first I do if I see something I'm interested in is to Google it. So, make sure you have an online presence!
The first thing you need is a website.
Creating a website is much easier now than it seems. With sites such as WordPress.org, you can get started on hosting your own website quite simply. They will provide you with a template to follow and a whole range of themes that you can choose your own layout and look.
Basic requirements for a website:
Include lots of pictures, a way to contact you, an address and lots of information about your offerings to get started. You can fine-tune your website as you progress. Then maybe pay a professional designer to perfect it in time.
Make sure your website is mobile-friendly too! And bear in mind that many people will judge harshly on the look of the website alone, whether this is on a desktop and mobile.
For more detail on how to maximise your website for mobile check out this blog post here.
3.     Reachability
Find out where your audiences hang out
Social Media
Most people are on some form of social media now. Whether it's Facebook, Instagram, Twitter, Pinterest... the list goes on! So, it is equally important to make sure that you hang out where your audiences are.
So, get a couple of social media pages for your company.
Communication
Post regularly and interact with your audience on these sites too.
It is so important for people to see that you are live and interactive. So you need to respond to comments, post pictures and give live updates and news or activities at your farm.
It may be the deciding factor in visiting you or a competitor!
Step 3: Maximising your revenue from experiences
This is the step that can make a difference.
If you've already got your diversifying niche, and you're already digitally active then here's how you can take it to the next level.
Expand your income stream by offering these additional services:
1. Merchandise
Can you merchandise any products for your farm or country house? Many tourism farms will have a gift shop offering mementos of your day.
Look at Folly Farm's gift shop. In 2016 Folly Farm invested 1 million into their gift shop to meet the increasing demands from visitors. They offer a huge choice of gifts to take home with you. From toys, t-shirts, stationery and sweets. Shopping in the gift shop has become part of the Folly Farm experience.
2. Experience Days
Expand on the activities you offer at your farm by offering experience packages.
Farm Adventure in North Yorkshire has become experts in offering experience days.
Whether it's for Hen Do's, Stag Do's, Birthdays or Corporate packages, Farm adventures offer rural farming packages focus around creating fun and memorable experiences. Visitors can partake in a Tractor Driving experience, Sheep Gathering, Pig Herding, even a Farmers Olympics!
All the experiences are tailored to farming and can be extended from activity days to full-on overnight packages. Even the overnight accommodation is an experience, with hot tubs overlooking the scenic countryside.
Transferring your products and services into the form of a gift voucher is a lucrative way to make extra revenue.
Humble Bee Farm is a leading camping farmland, with a huge variety of countryside accommodation options. Including Yurts, cottages, Wigwams, Bell Tents or Camping grounds for caravanning.
With so much choice available, Humble Bee Farm has expanded on their income stream by offering these services through monetary gift vouchers.
We hope you found this post on farm diversification ideas uk helpful. Gift vouchers have a huge amount of flexibility. You can tailor any of your services or products in the form of a gift and have it available to be purchased as a memorable experience.
Gift vouchers are an amazing way to compliment experiences too, as many people buy gifts as experiences for others.
Imagine buying someone a tractor driving gift voucher, it would certainly be a gift experience to remember!