What should you look for in a gift card system for small business?
First, let's define the question, what is a gift card?
A gift card is a cash-based token to be used at a specific retail or online location. As the name implies it's usually given as a gift. Growing in popularity, gift cards are the most wanted gifts during the holiday season (National Retail Federation (NRF) survey).
The gift card industry is one of the most lucrative retail markets. With the international gift card market hitting sales of $318 billion USD in 2017.  This number is projected to rise to almost $506 billion USD by 2025.
The transformation of the gift card into experiences
The gift card, sometimes referred to as a gift certificate for North American market or gift voucher in the UK, is transforming and expanding into the experience and service markets.
Growing in popularity is the desire for experiential gift cards. While still relatively new to the North American market, many early adopters are cashing in and offering gift cards for their experiences.
In the UK, experiential gift vouchers (as they are referred to) are already in popular demand. This trend is continuing to surge.
With the move towards digital commerce in the gift card industry, it is likely that plastic card will be redundant as more shoppers are preferring the idea of having an e-card on their mobile device instead. Especially among millennials.
Throughout this post we will be referring to gift cards and gift experiences as 'cards' or 'gift cards'.
A great way to make additional revenue and maximise your sales is to offer gift cards for your services!
Here's the potential
One of our clients The Celtic Manor Resort has grown gift card sales to $2.9 million per year!

How?
One of the fascinating facts about experiential gift cards is that once purchased, many of them go unredeemed. Meaning, you never actually spend on the service cost of the card.
This means you get to pocket ALL the revenue from the sale.
A great example is one of my own, a few years ago I received a restaurant gift card as a wedding gift, I still haven't got around to spending it.
It's not that I am not interested in the gift, the restaurant is one of my favourites. I just haven't got around to booking my reservation yet. Now it's most probably invalid!
This is what you'll find with a portion of your gift card sales too.
Your cards will be bought as thoughtful gifts to someone special. Sometimes the receiver will book right away and become loyal visitors of yours, and sometimes they may forget to use the card altogether like me. This is where you still win- as the sale is done, but you'll never fork out the service cost of that card.
So, whatever your services, it makes sense to promote and sell them in the form of a gift card. Just so you can capture that extra revenue.
Managing your gift cards
As you grow and progress you'll need a useful strategy in place to manage your gift cards properly.
Things to consider for gift card management
Storing gift card details
Tracking analytics for increasing sales and accounting
Managing the expiry life of a gift card
Marketing gift cards properly
Presentation of gift cards
Add-ons for gift cards
A system to sell the gift cards (online and on location)
Having a 3-month extension card
Well-designed gift card platform
Shopping enhancing features
Storing gift card details
In time you'll need a useful system where the details of purchased gift cards are stored.
The best way to do this would be to have a digital management system. A great system will allow you to manage and process your cards simply and effectively.
You'll need a system that can do the following:
Managing life expectancy of a gift card
According to The Credit Card Accountability Responsibility and Disclosure (CARD) Act of 2009, gift cards cannot expire within a 5 year period from the date they were activated. The US federal law has given a floor for regulation which can be subject to individual state regulation. However, this regulation is subject only to monetary gift cards.
That means you can put an expiry date on your gift experiences as there is a transaction of service and not monetary value.
By putting an expiry date on your card for your experiences, you can get control over your card and services. This is important as you don't want someone turning up to your business with a 5-year-old card, for a service you don't offer anymore.
As mentioned above, you'll also want an effective way to redeem used cards. This is to stop fraudulent copies of cards being made and used repeatedly. Now if you really want to take it up a notch, using a digital system to redeem cards also will allow you to track your card analytics. You'll get to see;
How many cards don't get redeemed.
Which are the most popular- so you can keep selling these.
Which cards may not be selling at all- so you can better invest money and time on promoting other more popular cards.
With this tracked information, you can make effective marketing decisions based on analytics and improve your future sales.
Marketing your gift cards properly
To really take your sales to the next level, the marketing of your gift cards will play a huge part in the process.
Marketing your cards is such a HUGE process, there are many things to think about. Because of this, we have split up our marketing of cards into separate posts, where you can read in more detail.
Marketing your gift card in-house is a great way to get visitors to be aware.
There are so many events throughout the year that you'll want to capitalise on and ensure you maximise your gift card sales.
You'll want to promote your gift cards digitally too. As this section is so detailed we've got another blog post, dedicated just to the digital marketing of gift cards.
Add-ons for gift cards
Whatever your product or service you are gifting, you can create extra revenue from it by having add-ons with your card.
It's something complimentary to your product or service that customers can buy additionally with their gift card, to enhance the experience making it extra special and personalised.
For example, let's take a spa experience gift card. You could have the option to 'add-on' a glass of Champagne or chocolate covered strawberries to really make the experience worthwhile.
The add-on option gives the buyer an opportunity to make their gift extra special.
Gift card system for small business
To truly make the most money from your gift cards, you will really need to have them available online.
You may have loyal customers that travel from across the country to experience your offerings. They may want to buy a gift card for a family member or friend, so make this process easier for them by offering the cards on your website.
You'll need a system in place that can process online payments and transactions effectively. Plus, the purchasing of the card online needs to be simple and easy to use. Just like a familiar shopping online experience.
Make sure your gift cards are easy to find on your website with clever website design, this is crucial!
Delivery of gift cards
With the popularity of e-commerce and trust among shoppers, more and more are preferring to use electronic tracking of gift cards over a physical card.
That's why with our system, we also send the gift card details via email.
For the shoppers that still like a physical copy. We offer an easy to download printable PDF of the gift card.
All in all, you want the purchasing of your cards to be an extremely easy process. Complicated and difficult shopping experiences will almost always make customers give up the process and abandon their purchase.
Having a 3-month extension card
For those who forget to spend their card within the expiry period, it's a great idea to have an option for them to purchase an extension card. 3 months in which to spend it is usually a reasonable amount of time.
These are very popular and provide a solution to those who really do want to use their card without paying the full cost of another.
The extension cards must be priced properly. Not more than the price of the original card, but enough so that you make a decent amount of extra revenue from them.
Gift card platform design
You also want your gift card website to be attractive, but also fit with the design of your own brand.
It also needs to work easily and effectively so that your customers can navigate around the page.
It must be easy to use on the back-of-house end for you and your staff too. You'll need an easy and simple way to retrieve the information you're looking for.
Take a look at the features of our gift voucher system to get a more in-depth idea of what may be important to your business.
Your gift card platform will also need to be mobile compatible too!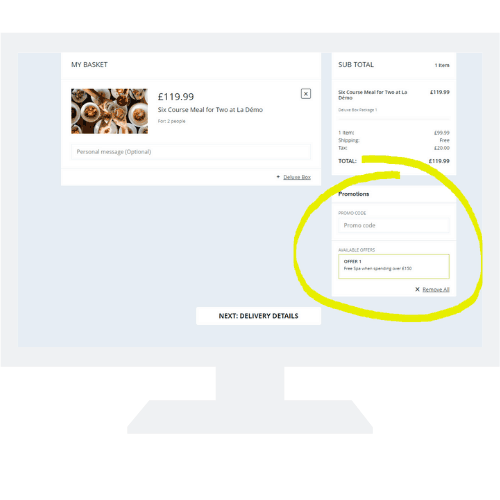 Shopping enhancing features
This will include things like making multiple orders. A protected payment process for security. Adding promotional codes to allow the ability to process high volume orders in a single day (important for days like Black Friday!)
You'll also want the ability to add promotional codes to some cards if you are doing a short-term promotion.
Seeing the benefits of gifting your services and products yet? There's a lot of potential extra revenue to be made in the gift card market. Make sure you jump on board and sell your cards the proper way.
Contact us at Enjovia where we can help facilitate and support all your gift card and marketing requirements.